One of the hardest stories to write is, in fact, your own. Frog and Esther are both full-time professionals and part-time fantasy authors to boot. They prefer the writing, but the legal work pays the bills.  They met at Eastern Washington University through curious circumstances involving roommates, and despite dire warnings from friends and enemies dated and then married.
Our lives, at this point, are pretty deeply intertwined. As a married couple, we live together. Beyond that, however, we work together; Esther is Frog's paralegal. And we write together. We're pretty sure that working and writing together has made our relationship stronger, and not weaker as was predicted by the many doomsayers.
That said, we are individuals as well. So here's our bios, as best as we can tell them.
Frog
Frog was born at a very young age in a small town in Eastern Washington, where he still managed to grow up nerdy despite all social pressure to the contrary. Oh, sure; he bucked hay and rode truck with the good ol' boys, but he also played a fair amount of D&D when he could. An Eagle Scout and a jazz saxophone amateur, Frog came out of his childhood a little twisted, just perfect for an artist.
At Eastern Washington University, whilst wearing a fedora and a trench coat and carrying a cane, he met Esther, fell in love, and graduated with a couple of worthless degrees. Frog then went on to the grand University of Idaho Law School, wherein he passed with honors.
Frog now practices in Washington, and writes from his home in the Olympic Peninsula. He has hand-constructed a Roman onager, which sits in his garage.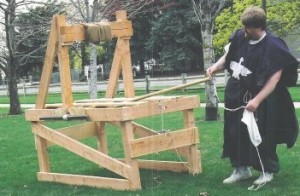 Esther
Esther Jones began life as a strange, fey child who always made up her own bedtime stories– and sometimes– even managed to scare her parents with them.   At some point during her childhood, she decided she would grow up to be a world famous illustrator of fairies or a poet. But during college, as a concession to providing herself with future food and clothing, switched her major to a technical communications degree instead.    She wrote legal briefs, grant proposals, business brochures, and similar documents, but didn't pick up a pen creatively for a decade after abandoning her poetic hubris.
In order to prove to herself that she could still write a short story, she set herself a goal of entering the SpoCon League of Extraordinary Writer's competition. To do so, Esther consulted with Frog, and about her story idea and began generating the world that would eventually envelop The Gift of Grace series. The short story she produced as a result not only entered, but won that competition.
Following that, Esther has collaborated with Frog on The Gift of Grace, as well as more short stories. Her interest in writing has driven the team of Frog and Esther to heights that neither could have reached alone.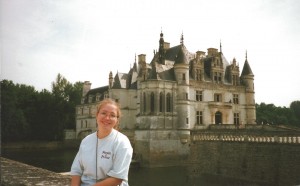 Geektopia
While not actually about writing, the Geektopia community certainly deserves a shout-out here. Frog and Esther have, instead of having children, made of their home a place for geeks to come and be geeks. Networked computers exist throughout the house, and role-playing games are occurring more nights during the week than not.
Geektopians may not all be writers, but they are all a large part of Frog and Esther's life, and they deserve to be recognized. The creative atmosphere of Geektopia has allowed the Collaborative Duo to thrive in an environment not enjoyed by many authors.
Finally, it is worth noting that our environment is also enhanced by the antics of Oxeye the Flemish Giant, the impotent rage of Cinnabun the Hedgehog, and of course our rare Eastern Washington Proofing Panda.
We thank them.